So, Cait posted my "about us" section to the
Feminist Mormon Housewives
Facebook page and it got a lot of response and I think, also brought us some new readers. Welcome, I would like to consider myself a Feminist, a Mormon and Housewife, at least in some capacity. But you should know that most of the stuff we post here are rather boring and not nearly as funny as that post. Oh well. I'd like to tap into that new readership and our old readership and ask help with a moral dilemma. Don't worry, it's not that big of deal. But one thing about having a fundamental faith crisis is that it forces you to really reevaluate a lot of what you consider good and bad.
For a long time I have really been a news junkie. I love being "informed." By that I meant knowing more about what is going on in the world than anyone else. It isn't all about the competition of course. I've always felt there is intrinsic value in understanding better the world we live in. I still believe that gaining knowledge is a vital part of any good existence. Looking outside oneself adds a needed perspective. I'm just not convinced that reading the news is the way to do that.
As I've mentioned, I've been reading more Zen and Taoist teachings lately, and some of the writers that I've read have spoken out against the news, and their arguments have rang true to me. For the writer of The Tao of Pooh, reading the news is something that we do to keep ourselves busy, to convince ourselves that we are doing something valuable, when really we are just filling time.
One of the prime examples of that for me lately has been the election. I love reading about politics, the latest polls or the latest strategy shift. But how much of a better person am I for having read all these articles about Mitt Romney and Barack Obama and Ron Paul? I've known who I was voting for for 4 years, and although I had a short flirtation with Jon Huntsman, I've always known who I was voting for. Even if I hadn't been so sure about who I was voting for, I could have learned a lot more about the candidates reading the a few position paers than I could have watching a month of CNN. Lately I've been thinking about voting for Jill Stein, but I heard nothing about her in the news, but rather doing research about candidates on Wikipedia and other sites. In a few hours, all the time I spent trying to learn about who was going to win the election will be completely useless. The main point was to make myself feel good about my political opinoins by convincing myself that the person I wanted to win was going to win and to be better able to argue with anyone who disagreed with me.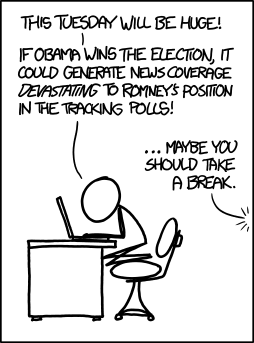 What about reading about what is going on in Africa? Reading about conflict and violence has always seemed like a clear obligation. I live in a safe place where war does not threaten often, but that doesn't give me the right to be ignorant about the terrible things that are happening to other people far away. Another Zen writer that I have now forgotten said this was the worst kind of news. By allowing violence to enter into our lives, we become participants in that violence by getting some form of entertainment from it, which is all it really is if we don't do anything about the conflict. Sometimes I feel like we read about conflict and violence to convince ourselves that we're doing our moral part by being "aware." Wouldn't my time be better spent reading a book about some of the roots of different conflicts and what about how US policies are affecting that our how these diamonds that I'm buying are contributing to the conflict.
But at the same time, I hate being out of the loop on anything. I don't like feeling stupid when I don't know about some major world event that is going on. But maybe I can get "all the news I need from the weather report" and focus more on what is going on right in front of me instead of trying to accomplish the impossible task of being "informed" about what is "really going on" in the rest of the world.
Also, my favorite shirt is an NPR shirt that says "Get Smarter." I don't want to betray my favorite shirt.
Any thoughts or critiques? I realize this isn't that big a deal, but being at home with the kids gives me a lot of time to contemplate moral dillemas. Any other news junkies out there? Some news sources are obviously of more worth than others, any favorites? Anybody succesfully given up the news addiction? Let me know.